Located two miles from Townsend, TN off Highway 321 the Lee Roberson Art Gallery is a must-see destination on your Smoky Mountain getaway. A short drive down a winding, one-way gravel lane leads you to a secluded cove where a cluster of charming log buildings come into view.
The Roberson Gallery was the first, and for many years, the only art gallery officially recognized by the state of Tennessee as a "Tourism Attraction". The rustic, peaceful setting reminds one of a simpler time and place. And once you venture inside the gallery Lee Roberson's paintings will give you an even greater understanding and appreciation of Smoky Mountain and Appalachian traditions. Lee himself is descended from Cades Cove settlers and Cherokee Indians so preserving the local culture is entrenched deeply in his heart. He lives and works in a log cabin which he restored, just a stone's throw from the gallery.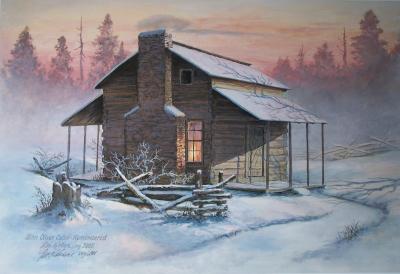 Roberson, sometimes called the "Michelangelo of the Mountains," or the "Artist Laureate of the Smokies," enjoys the reputation as a master painter of the Smokies and surrounding Appalachian area that is unrivaled by his peers. His charming paintings will capture your heart and mind and have you anxiously waiting for his new works of art. So the next time you're in the Townsend area be sure and pay Lee and his wife a visit at the gallery. It will surely become one of your favorite Smoky Mountain destinations that you'll want to visit time and time again.
Lee Roberson Art Gallery
758 Wears Valley Rd
Townsend, TN 37882-3402
(865) 448-3900